New XVR Simulation Centre in South Korea
Following the success of the Incident Command Training Centre (ICTC) of the Seoul fire brigade, the South Korean National Fire Service Academy (NFSA) is currently building an XVR simulation centre as part of a brand new academy. The academy and simulation centre will be opening in October 2019.
The modern complex is located in Gong Ju, about a three-hour drive southwest of Seoul. In addition to the simulation centre, the academy also features a large fire training centre and a public disaster experience centre where the public is able to experience cyclones and earthquakes. In addition, the complex has buildings with classrooms where students can follow theoretical education. One of these buildings also houses the XVR Incident Command Simulation Centre.
The XVR Simulation Centre is used to educate and train incident commanders of all levels. In particular, training is aimed to improve the cooperation between the various levels in the event of large-scale incidents, ranging from earthquakes and industrial disasters to maritime accidents.

The academy will cooperate with the Seoul Fire Brigade and the Gyong Gi Do Fire Brigade, where XVR is respectively already being used to train with and an XVR simulation centre is currently being built. When all three training centres are working with XVR, the mutual exchange of environments and scenarios is possible. The training centres are working on an unambiguous educational approach and are advised by the University of Seoul Faculty for Disaster Management Studies.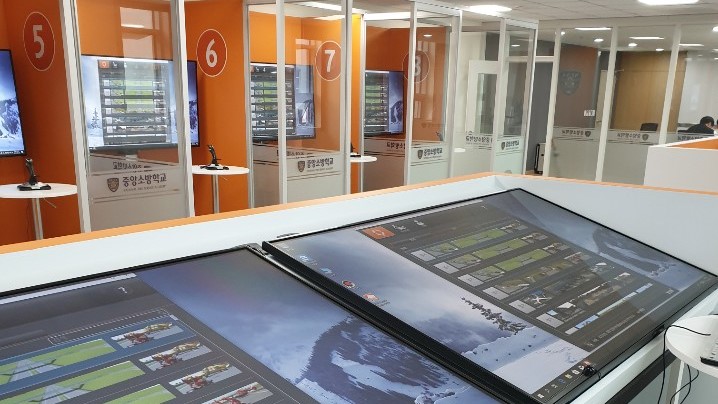 The XVR project at the NFSA is carried out by Intuita, our local partner in Seoul. Intuita will be in charge of the setup, hardware and installation, after which XVR Simulation Asia will train the instructors.
Steven Lohman, founder and CEO of XVR Simulation says about the training centre: "Intuita and XVR Simulation are proud of the results achieved at NFSA, and we look forward to the long-term cooperation with the national training centre. The potential for training in the modern complex is enormous, and there is a great ambition to use XVR widely for education, training and examination."
Sogu Yang, director of Intuita, also looks to the future: "The NFSA has now confirmed that the XVR training centre will be expanded in the near future. The goal is to set up a world-class simulation centre using the latest VR technologies. The NFSA aims to be the most important centre for XVR training in Asia." Steven Lohman adds: "Together with Intuita, we are ready to make this into a great success with the NFSA team!"
概览