XVR UGM: Lincolnshire FRS, UK
We visited Lincolnshire, UK during the first week of July for the largest XVR User Group Meeting of the year. Lincolnshire Fire & Rescue Service hosted the event at their training facility in Lincoln, and we were joined by almost 80 users from all over the UK, from other countries in Europe, such as Denmark, Sweden and Portugal, as well as from Australia, Singapore and USA. The 2-day event was jampacked with XVR On Scene workshops, networking opportunities and guest speaker presentations.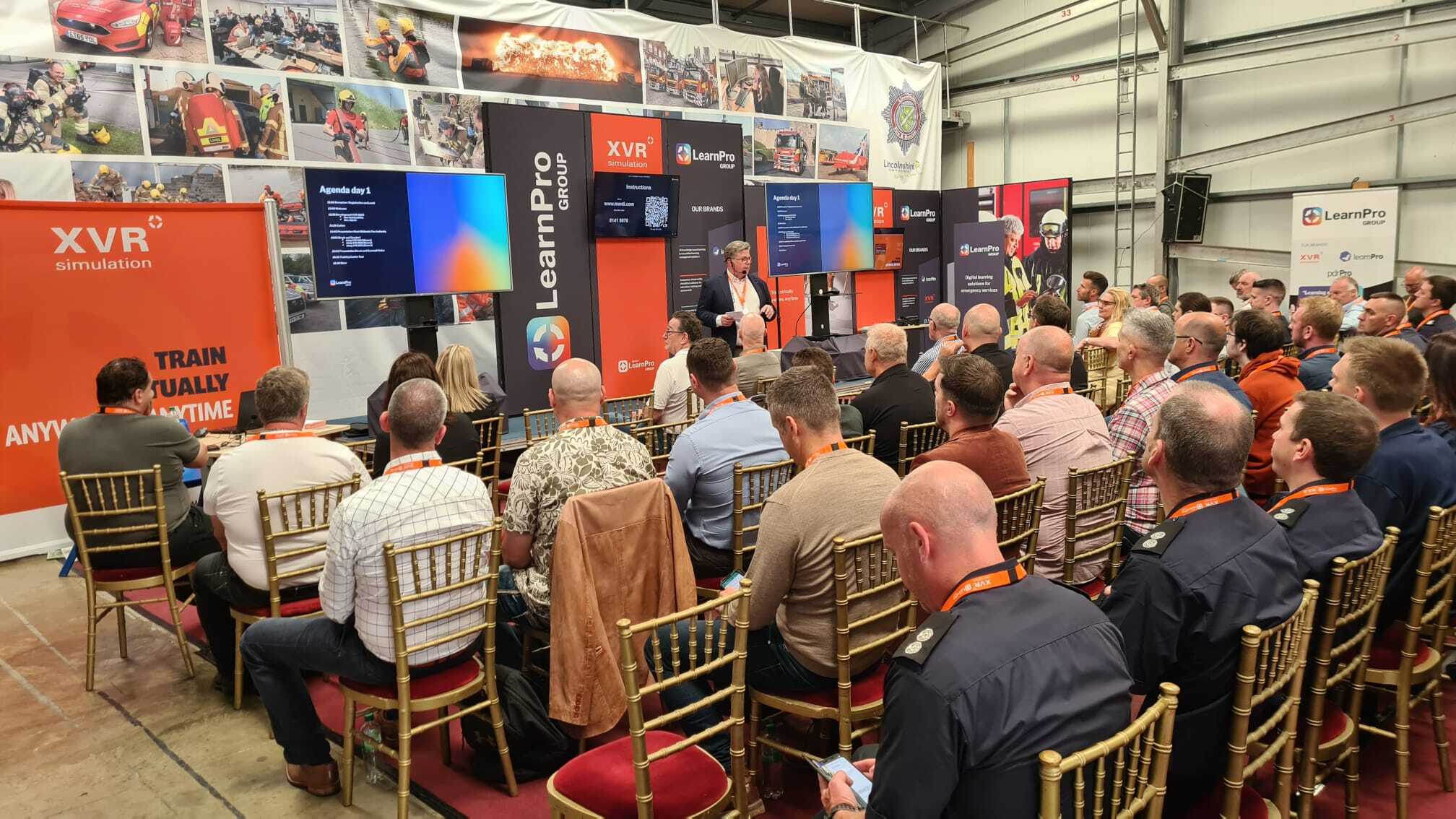 Our Menti poll results revealed that users were highly impressed with the new Task Logic improvements. One user said that he had always shied away from using Task Logic in the past due to the complex menu listing – but with the new improvements, he felt confident to try his hand at it again. Many other users were also excited about the new render pipeline which will improve visual effects such as lighting, water and weather. The new Remote Connection mode also proved popular. This will allow a central XVR Operator machine to connect XVR participants in different physical locations in the same XVR session.

The days also provided ample opportunity for users to share their experiences and stories across services and organisations, gather new inspiration for their own use of the XVR platform, and attend workshops on how to use the new XVR On Scene 2023 functionalities as well as on topics such as "VR Tools and Interactions" and "Using Templates", and colleagues from pdrPro were present to give a demonstration of their competence management software.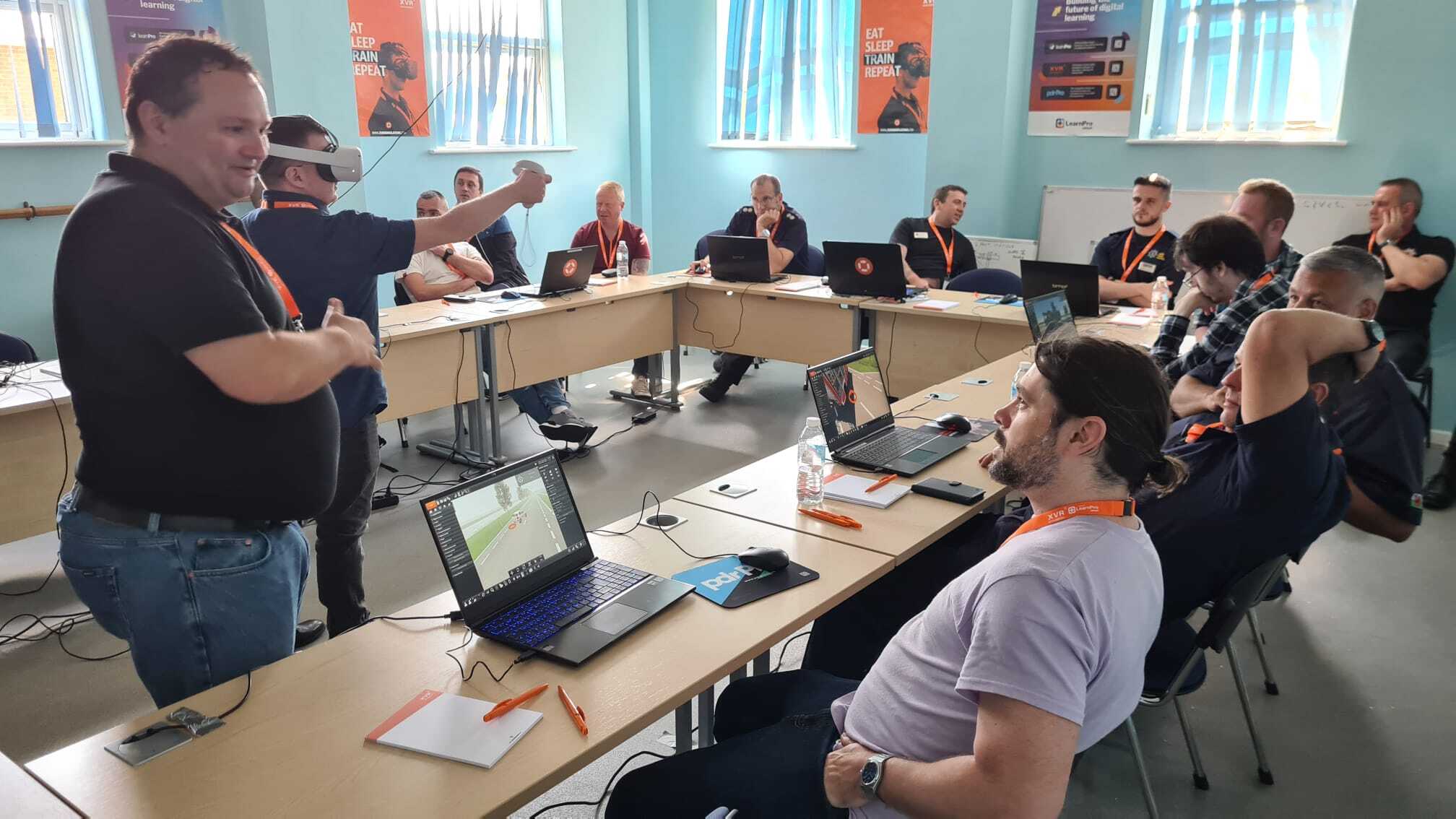 We were grateful to have guest speakers from 4 different organisations present their approach to using the XVR platform:
Imran Lal from West Midlands FRS shared details and photos from their command development centre in Birmingham where the briefing room, command room and 4 pod rooms allow for a multitude of training set-ups. Here, they run in-person and remote training and assessments for Level 1, 2 and 3 commanders in their county – yearly, almost 500 Level 1 commanders are assessed remotely. West Midlands FRS also have a mobile command centre, a customised Ford Transit with 2 PCs, 3 screens with speakers and different communication tools.
James Doyle of Coventry University Enterprises shared their progress on the developments of the new version of Crisis Media. Crisis Media is an add-on module to XVR that allows participants to simulate and train internal and external communication flows during an incident. Among others, the new version will make it possible to add social media and network plug-ins that show real-time, real-world news items and updates to increase the sense of realism.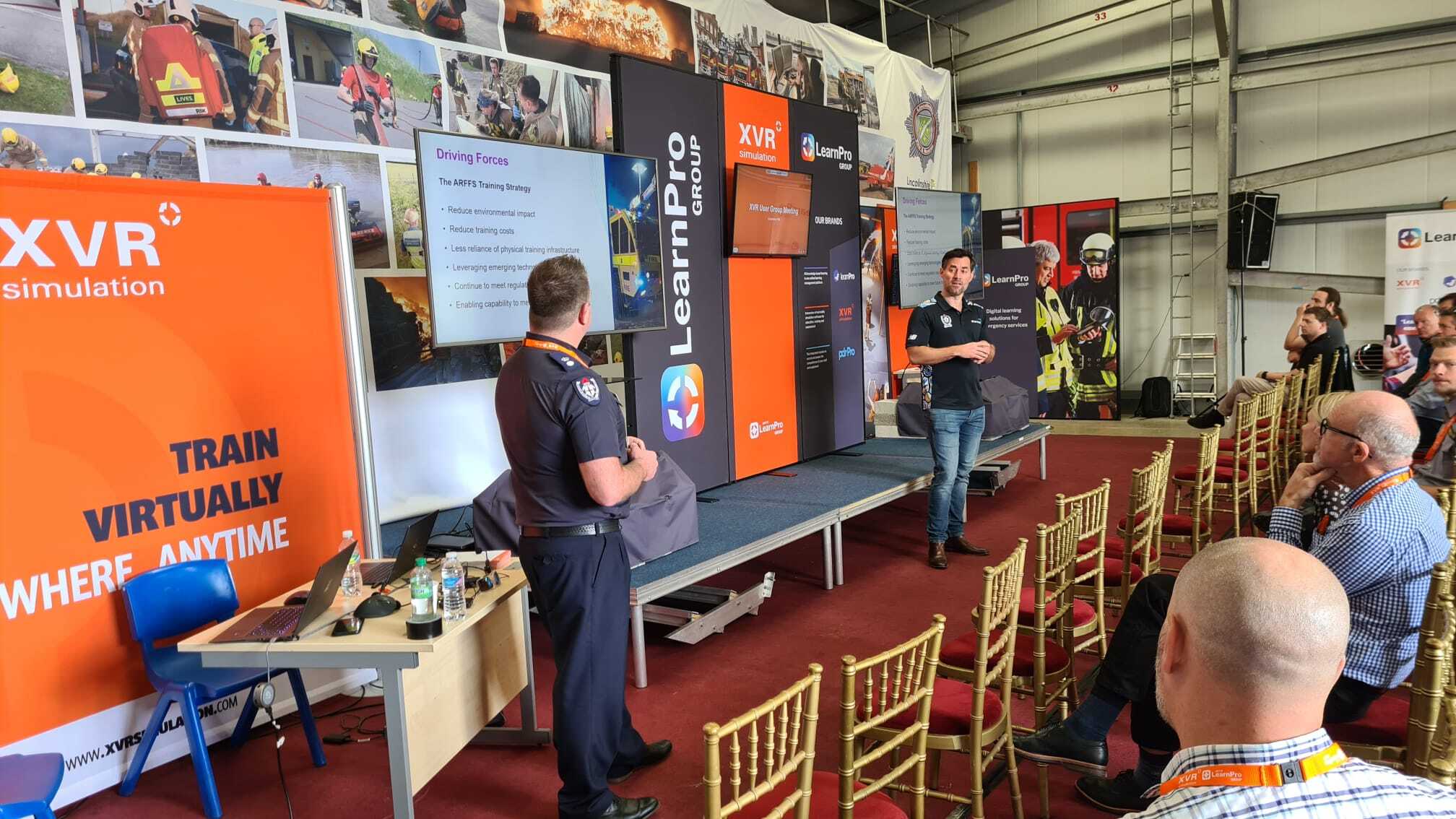 Nathan Smith from Airservices Aviation Rescue and Firefighting Service (ARFFS) came all the way from Australia to share with our users how XVR Simulation is used in the training of officers and firefighters to handle airport and plane crash incidents. ARFFS have been gradually decreasing the number of live exercises in favour of virtual reality training, among others to reduce emissions and pollutants for environmental reasons. Remote training also means less travelling for participants in other metropolitan and rural areas, which in turn saves time, costs and resources. Next year they aim to train 850 students with XVR.

Kane Fowler and Julian Pezzani from Devon & Cornwall Police are new XVR users, and their presentation focused on how XVR has been integrated into their multi-agency silver/bronze incident command training. They found that after completing the training course, participants felt significantly more confident in their abilities to command a major incident, and the participant feedback on integrating the VR component has so far been very positive. In the future, they plan to expand their training courses to include CCTV/drone images and news feeds into the scenarios, as well as provide crime scene training and RTC safety and major incident training to new recruits.
Thank you to all the users who travelled to meet us in Lincoln – and thank you for sharing your feedback, your stories and your questions with us! We are also grateful to Lincolnshire FRS for hosting us and for all their help in making this event a success. More UGMs will be taking place in the autumn – watch this space for more updates.
概览