FAAC and XVR bringing VR training to the next level in the US
FAAC upgrades its incident management simulator, inCommand, with the state-of-the-art XVR Simulation Platform
Leading simulation manufacturer FAAC Incorporated (Ann Arbor, MI) has teamed up with the world leader in emergency response simulation training, XVR Simulation (the Netherlands). Together, they introduce the most immersive and realistic incident management simulation training platform available to US Fire Departments to date, called inCommand.
Real-life training is an excellent way to develop competencies but it is often time-consuming and expensive. Virtual simulation using fully immersive 3D worlds enables FAAC to train safety and security professionals realistically for events and incidents, without the dangers, costs and time associated with traditional training.
inCommand uses the XVR Simulation Platform to create realistic, fully immersive 3D training environments for all hazards training. The inCommand simulation allows emergency crews to experience the incident as they would in real life. They assess the situation and determine the best response strategy, implement it, and then observe the consequences of their decisions.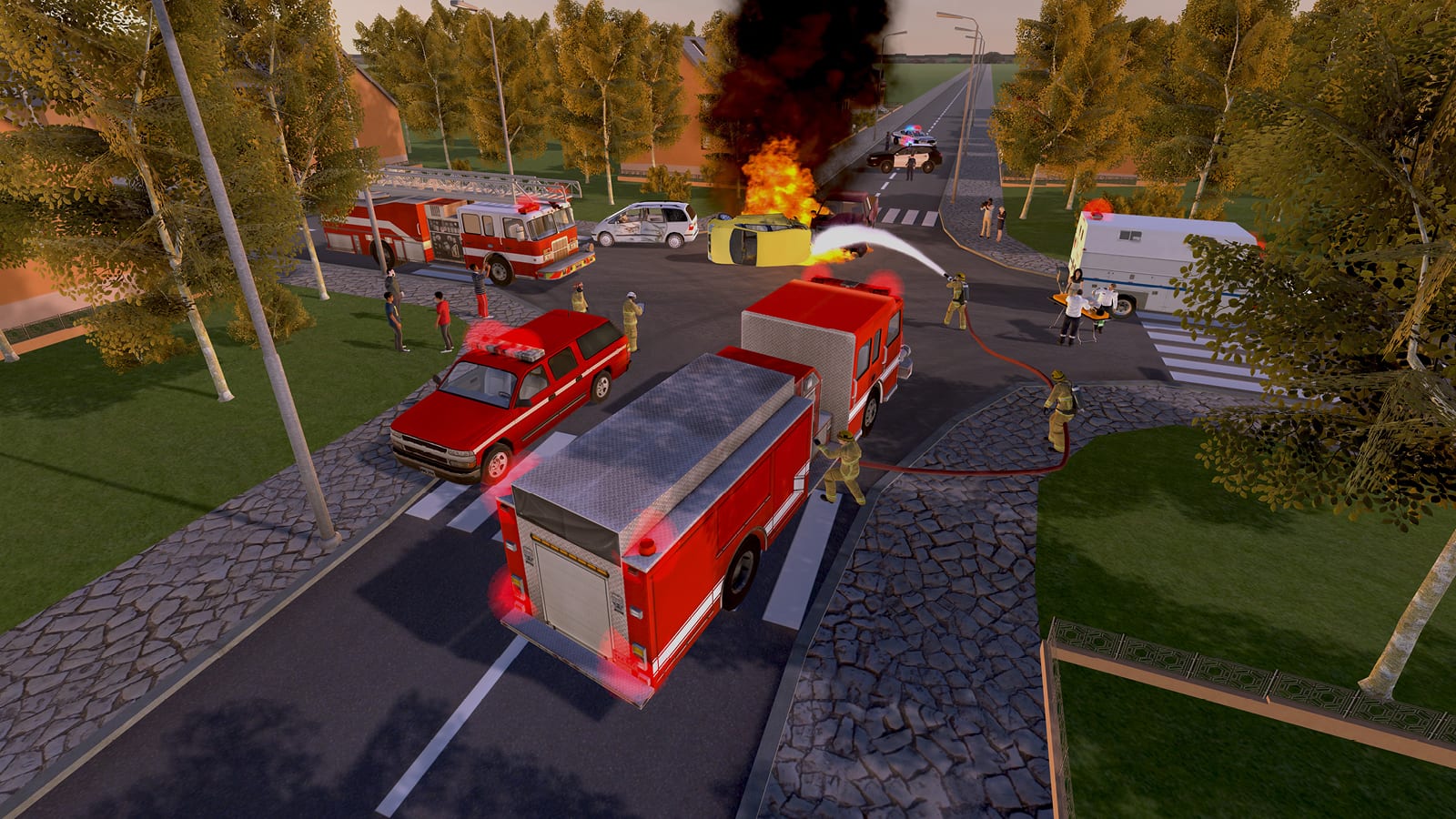 Participants can freely move around in the virtual environments on foot and in vehicles or using drones. Realistic incidents like fires and hazmat emissions are placed in the virtual environment which can evolve over time and be realistically controlled using the right response measures. Participants see immediate effect of their response decisions. The virtual crews they deploy arrive on scene and perform their tasks in the virtual environment. Users can try different response strategies across a wide array of incidents.
The inCommand suite is delivered with a comprehensive library of pre-built scenarios, allowing the user to start training immediately. As the user gains proficiency as an instructor, they can expand their scenario library using the scenario build mode. The XVR Simulation software gives the instructor full control over events during the exercise, thus enabling them to change the incidents on the spot. Builders have complete freedom to create and change scenarios to fit their exact needs.
David Bouwkamp, Executive Director Business Development at FAAC Incorporated, is impressed with the joint cooperation: "XVR gives us the realism and the flexibility required by our end users. We can create incident management scenarios at FAAC and our users can also create their own scenarios using XVR's user friendly interface." CEO of XVR Simulation, Joost Beerthuis: "We look forward to working with FAAC and bringing VR training to the next level in the US. Together we will help prepare safety and security professionals for all types of incidents."
The XVR Simulation Platform which powers inCommand is the world's leading simulation platform for incident management training. XVR is used by over 300 users in more than 50 countries worldwide. In the United States, XVR is used by TEEX ESTI and in Los Angeles for multi-agency transport incident management training.
_______________________________________________________________________________
END OF PRESS RELEASE
About Arotech Training and Simulation Division Arotech's Training and Simulation Division (ATSD) provides world-class simulation-based solutions. ATSD develops, manufactures, and markets advanced high-tech multimedia and interactive digital solutions for engineering, use-of-force, and operator training simulations for military, law enforcement, security, municipal and private industry personnel. The division's fully interactive operator training systems feature state-of-the-art vehicle simulator technology enabling training in situation awareness, risk analysis and decision-making, emergency reaction and avoidance procedures, conscientious equipment operation, and crew coordination. The division's use-of-force training products and services allow organizations to train their personnel in safe, productive, and realistic environments. The division supplies pilot decision-making support software for the F-15, F-16, F-18, F-22, and F-35 aircraft, simulation models for the ACMI/TACTS air combat training ranges, and Air-Refueling Boom Arm simulators. The divisions live training and test instrumentation system provides aircraft, including the Apache helicopter, with an immersive networked training environment. The division also provides consulting and developmental support for engineering and research simulation solutions.

Arotech Training and Simulation Division consists of FAAC Incorporated (www.faac.com), Inter-costal Electronics (www.inter-coastal.com), MILO Range Training Systems (www.milorange.com), and Realtime Technologies (www.simcreator.com).
About Arotech Corporation Arotech Corporation is a defense and security company engaged in two business areas: training and simulation, and power systems. Arotech is incorporated in Delaware, with corporate offices in Ann Arbor, Michigan, and research, development and production subsidiaries in Michigan, Arizona, South Carolina, and Israel. For more information on Arotech, please visit Arotech's website at www.arotech.com.
https://www.faac.com/incommand
About XVR Simulation
XVR Simulation believes in enhancing the competence and expertise of all emergency responders through simulation. We do this by creating versatile programs in which learning is key and the instructor is in control. Every program offers an immersive learning environment for all levels of incident command, to be used in both single- and multi-agency exercises.
XVR Simulation is the world's leading developer of simulation technology with over 275 training organisations in more than 50 countries worldwide using XVR to train 150,000 incident responders every year. XVR boasts over 30 partners over the whole world providing users local support. XVR's main user groups are schools & training centres and emergency services.
Overview