Important update from XVR Simulation
​It is with great sadness we write to inform you that our friend and colleague Tjin Yoe Li (36) from Service & Support died in a mountaineering accident in the French-Swiss Alps on Monday 31 July. His mountain climbing group was hit by a rockslide while climbing the Aiguille du Tour, north of Mount Blanc.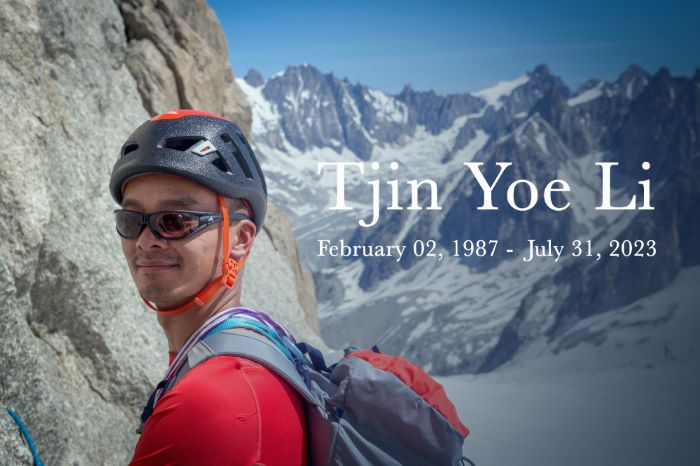 Tjin loved the outdoors and was an avid mountain climber. He was an experienced climber and a climbing instructor, and he spent almost all his free time outdoors, in the mountains, in the water, in the snow. Mountaineering was a true passion for him; he was meticulous about checking all his climbing equipment, and the safety of himself and his fellow climbers was always his number one concern. This was an event they could not have foreseen.

If you have ever reached out to XVR Service & Support, you will have spoken to Tjin – he answered all your phone calls and emails. You may also have seen him at the User Group Meetings, or he may even have visited you on-site to help sort out your set-up – Tjin had a solution to almost anything. He will be remembered for his dedication to supporting his colleagues and our users, his extraordinary response times, and his wealth of knowledge about our products. Tjin had been with XVR for 13 years and leaves behind a big hole in the Service & Support team. He was an integral part of XVR Simulation, and he will be greatly missed.
We have created an online condolences page for Tjin's family on behalf of XVR Simulation – if you knew Tjin and wish to contribute, you can do so here. Click on the button "Voeg een condoleance toe" and fill in your name, email and your message. Tick "Ik ga akkoord met de algemene voorwaarden" below your personal information, and click on "verzenden" when you are ready to place your message.
Over the coming weeks, you may experience slower response times from us. If you have a non-urgent support request or question, please send an email to support@xvrsim.com with your contact details and we will get back to you as soon as possible. For urgent support, you can of course still call us at +31 15 2125276.
We ask for your understanding in the coming time as we process this sad news and as we work on a solution to continue to provide you with the best possible support.
In honor of Tjin, we have updated our social media to reflect his great passion; the mountains.
Overview