Beyond the hype HMD for crewmembers
At XVR Simulation we often consult our users when developing our product XVR On Scene. This year, together with some of our users, we'll be exploring the (im)possibilities of several applications for different technologies. While doing so, we focus on educational merit and a realistic look on technical possibilities, budget and implementation. Along with our users, we look beyond the hype and try to create applications with added educational value, that will help train and educate emergency responders now and in the future.

______________________________________________________________________________________________
Head mounted display for crew members

Together with the Safety Regions of Gelderland Midden and Drenthe we are exploring all possibilities to meaningfully implement training with Head Mounted Displays (HMD) for crew members. While training with HMD's offers some cool advantages, it also poses several challenges like users becoming nauseous or the instructor losing the inter-human connection with the user. All too often we see users stop training with an HMD after the first novelty is gone. After which the HMD is merely a glorified demonstration tool.
We find this unnecessary and unfortunate. An HMD can increase immersion, which is beneficial for the learning experience. The HMD is also more intuitive when it comes to looking around, potentially making it suitable for reconnaissance. Using both the HMD as well as a flat screen could help crew members with the initial situational awareness. This is what we will try to find out together with our users.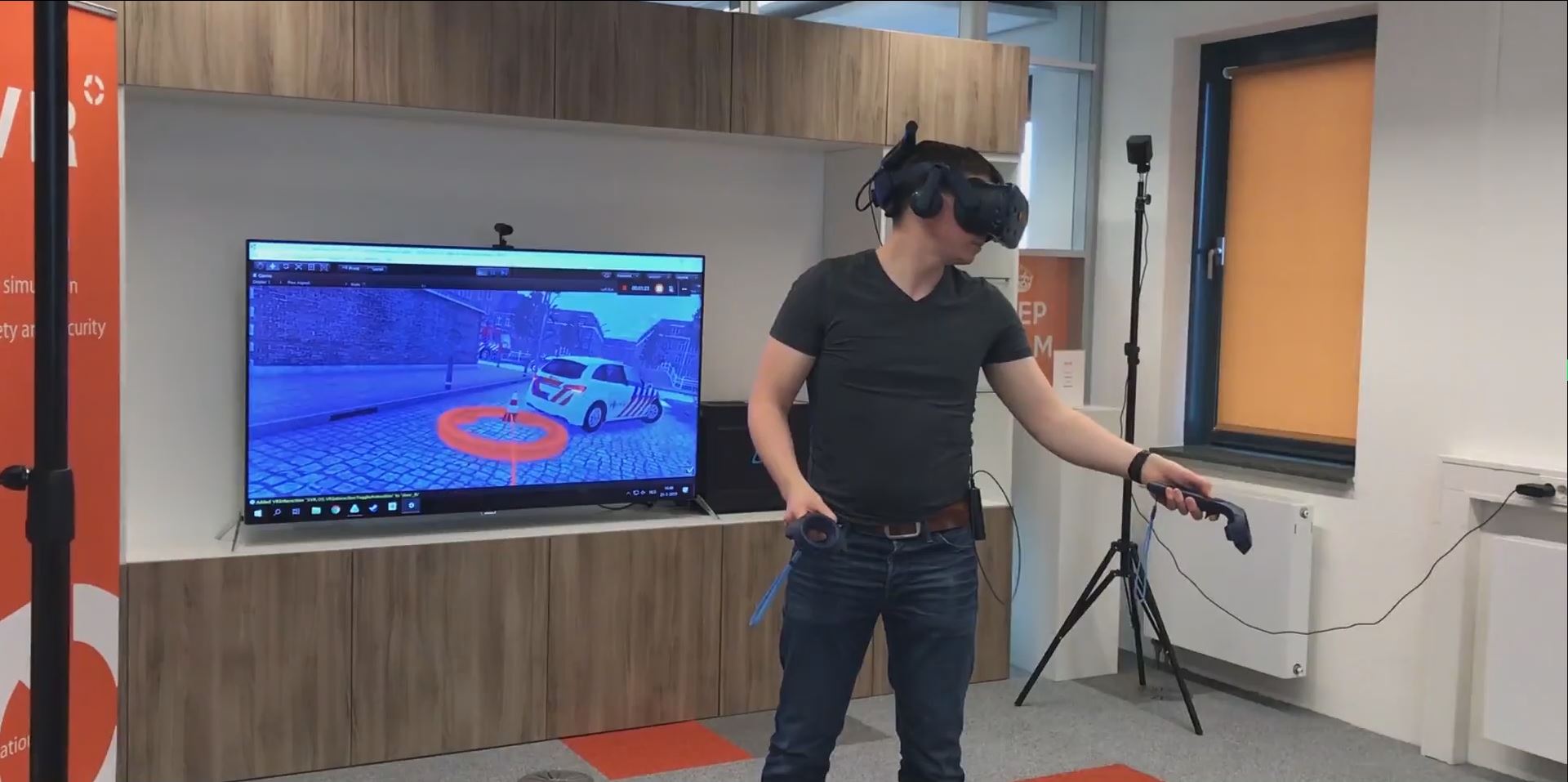 During this process we focus on the principal operational tasks of fire crew members, like firefighting, road traffic accidents, water rescue and incident control of hazardous materials.

Firefighting

One potential skill in which HMD can innovate firefighting training for crew members is reconnaissance. Learning to observe and make decisions based on those observations can benefit from the added immersion provided through an HMD. Other skills/protocols that could benefit from training with an HMD set up could be exploration with heat signature cameras.
Within this skillset, we concluded there are also skills that are better trained in different ways. For example navigation through a smoke-filled space appears to be more effective when you just put on a blindfold and feel the actual room. The same can perhaps be said for actions like extinguishing , although it could be beneficial to use the extinguisher during reconnaissance. We need to investigate the pros and cons by experience.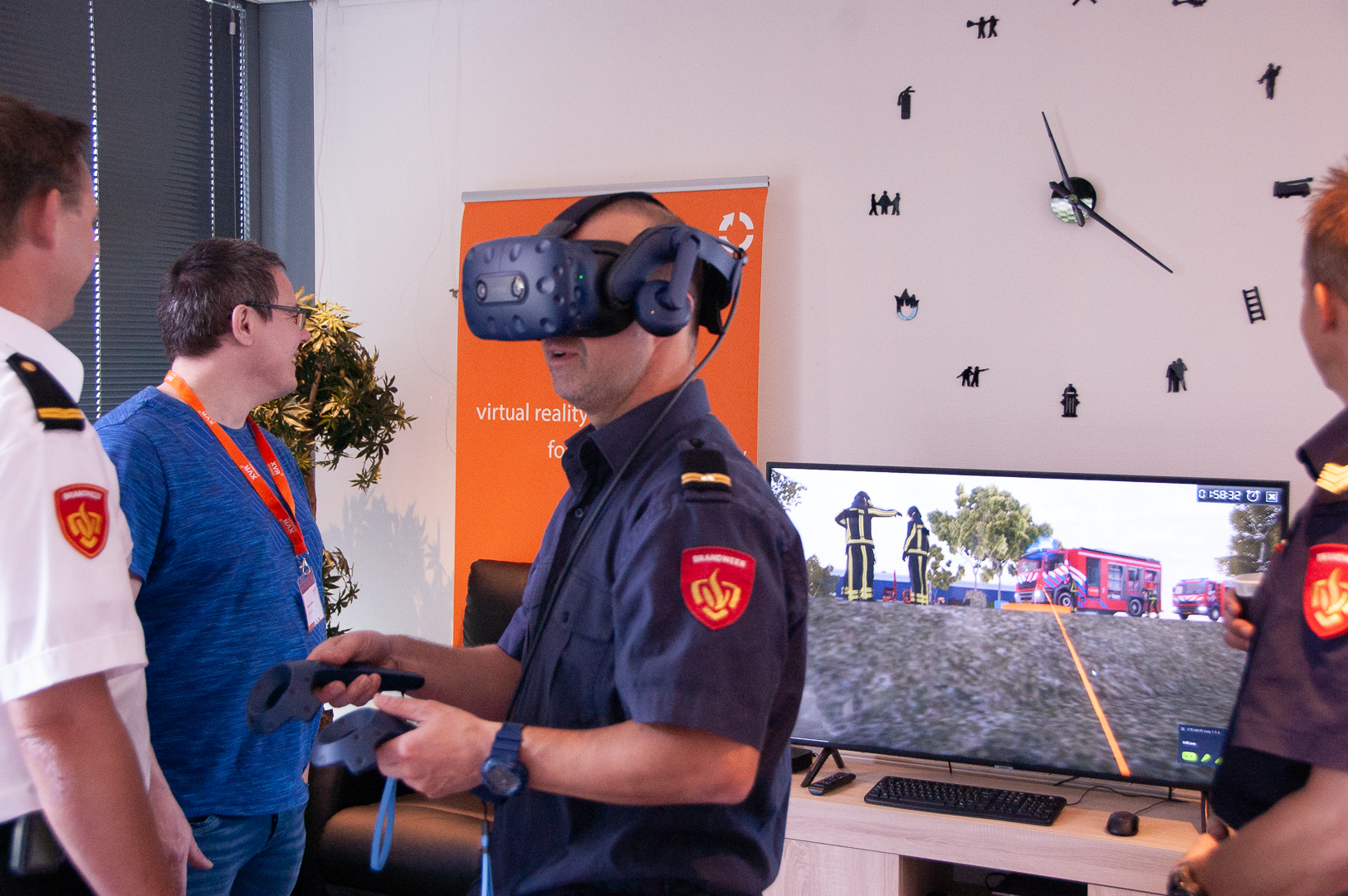 Road Traffic Accidents

Working with HMD's for Road Traffic Accidents opens up the opportunity to look in and underneath cars in an immersive and intuitive way. It gives instructors the chance to train the students' awareness of the situation the car is in and recognize possible dangerous situations, like on the edge of a bridge or the need to stabilise a vehicle.
Training with the HMD can be beneficial for the decision making process of the process around cutting and spreading of the latest models. The actual cutting and spreading of car wrecks is better trained in real life as car wrecks are plentiful and cheap.
Water rescue
We also identified underwater rescue as a specialisation that might be trained with an HMD. However, after discussing the possibilities with the Safety Regions of Gelderland Midden and Drenthe we soon found there's less need for HMD training for crew members. Because the visibility is limited in the Netherlands, divers have to rely on feeling and touching to find their way. As VR relies heavily on vision, training an underwater scenario through an HMD so far seems to have limited to no additional value. Diving team leader training in contrast, can benefit from training with HMD because it relies heavily on observation.
Hazardous materials incident control
Observation and reconnaissance are key in an incident involving hazardous materials. Observing a leak, recognizing symbols, seeing a specific chemical cloud, it is a perfect fit to be trained in Virtual Reality with an HMD. This does however need quite a high level of detail, accuracy, and a flexible platform to create a realistic situation with all the proper symbols and cloud colours.
Proof of Concepts

Together with the Safety Regions of Gelderland Midden and Drenthe we started to explore the possibilities of training with HMD's for crew members. Some ways into the project, we identified areas in which the HMD has real potential, and other areas in which the HMD has no place. XVR Simulation will be setting up proof of concepts in order for the Safety Regions of Gelderland Midden and Drenthe to see if the potential is indeed present.
After discussing the proof of concepts with both Safety Region Gelderland Midden and Safety Region Drenthe, we will judge the educational merit of each proof on concept and add it accordingly to our roadmap.
Combining our technological expertise with the didactical competence of both Safety Regions is aimed to result in practical and feasible applications of HMD's, with added value to the educational goals for crew members.
Overview