Finding the right HMD: An updated guide
Choosing the right head-mounted display (HMD) to use with your training set-up can be difficult, especially if you are not quite sure what exactly your needs are - or will be in the future. XVR Simulation supports most of the major HMDs that are currently on the market. With this guide, we hope to make it easier for you to choose the HMD that best suits your training needs.
The HMD market is vast, and each brand and model have been made for a specific purpose, with their own technical specifications, and with their own pros and cons. We understand that this makes it difficult to find the HMD that fulfils your organisation's training needs. In this guide, we will cover the following HMDs:
Oculus Quest 2
Valve Index
HTC Vive Pro
HTC Vive Cosmos
Before choosing an HMD, we suggest that you spend some time thinking about your current training set-up, whether you need it to be mobile or not, and whether you intend to make more use of HMDs in your training efforts going forward. These factors all determine which type of HMD will work best for your particular situation. Please also note that some participants experience motion sickness when using HMDs, though the risk of this is lower if using an HMD with high-quality graphics and a high refresh rate. To get the most out of your HMD, it also requires that all drivers and firmware to be absolutely up-to-date, as it may otherwise glitch. Some experience issues with this, some do not – it depends on your organisation's attention to keeping all software and hardware updated and running smoothly.
If you are doubting whether you have covered all your bases, please do not hesitate to get in touch with your sales representative or our Service & Support team – we are always happy to help you think about any and all possible solutions for your training set-up.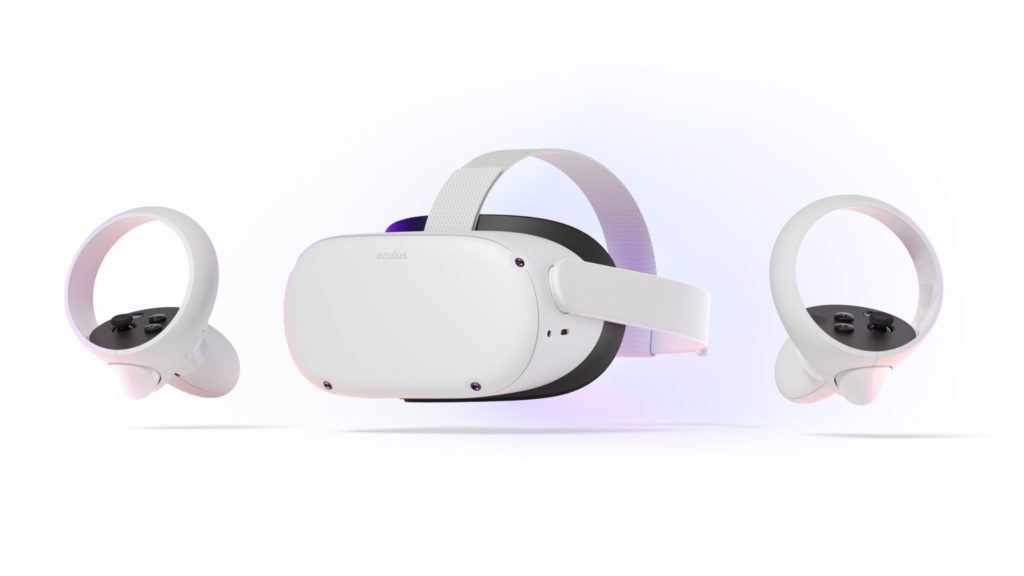 Oculus Quest 2

The Oculus Quest 2 is a mid-range HMD and the newest model from the makers behind the Oculus Rift S and the Oculus GO, which we reviewed in our previous guide.
Compared to previous versions of Oculus HMDs, the graphics in the latest Quest 2 have greatly improved. The audio quality does not quite match up to that of the Rift, though, as all Oculus models since the Rift make use of a near-ear speaker rather than on-ear headphones. However, this means that participants will be able to hear one another (if training in groups) or the instructor/operator. If you want full immersion without any outside "noise", it is possible to use separate headphones with the Quest 2.
The advantage of the Quest 2 compared to the other HMDs in our guide is that it works very well with a mobile set-up. Where others use separate location trackers to track your movements, this functionality is built into the headset itself (also known as "inside-out tracking"). As the Quest 2 headset is battery-driven, it can be used wirelessly by using the Oculus Air Link app, which is currently offered in a beta version (and may therefore be glitchy). However, this also means that you will need to keep an eye on training duration. On its own, the battery gives you about 2 to 3 hours of play time, but by using a USB cable plugged into the headset and your computer, the battery will drain more slowly. You will, however, need to charge it between sessions. You will furthermore need a special USB Link cable as well as a Facebook account to use the Quest 2. However, if you purchase the more expensive "Oculus for Business" solution, it is possible to use the HMD without the use of a Facebook account.
At a starting price of €349 (including controllers but excluding USB Link cable), the Oculus Quest 2 is an affordable option for users who are new to using HMDs and wish to try out the waters before committing to set-ups or training forms that require additional technological training aids – without compromising on functionality and quality. It also remains a great choice for organisations who wish to implement more HMDs into their set-ups without breaking the bank.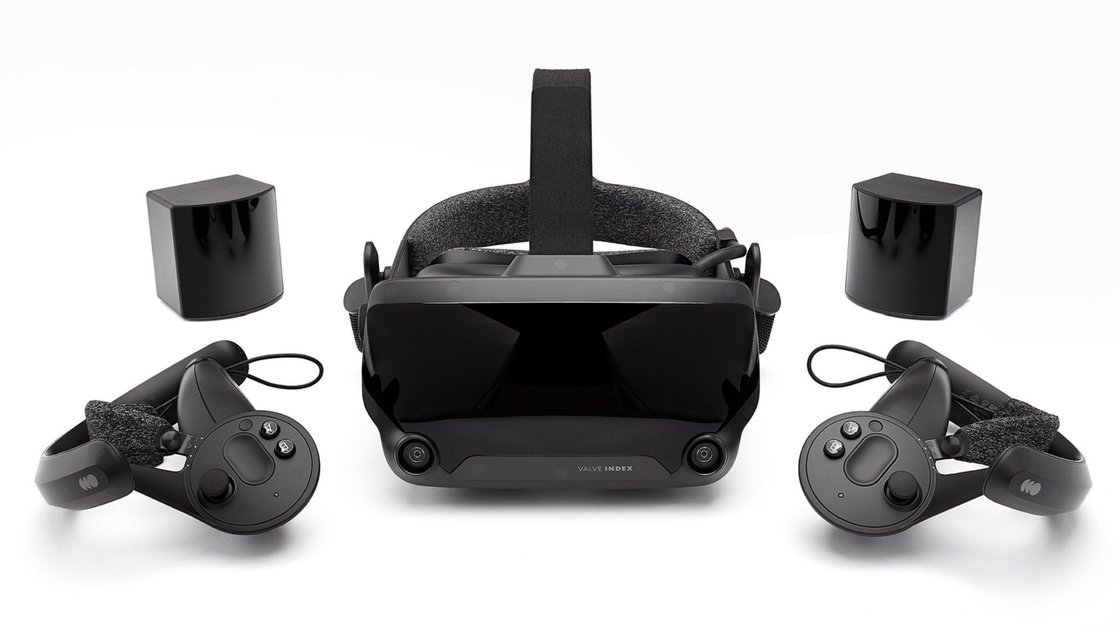 Valve Index

We tested the Valve Index when it was released back in 2019, and we remain equally as enthusiastic about the high quality of both visuals and audio today. The superb graphics level, extended field of view, and high refresh rate make for a smooth and realistic VR experience, and coupled with excellent, off-ear speakers, this provides unparalleled levels of immersion. The fit of the HMD itself is for many also more comfortable than that of more affordable HMDs, as each part of the HMD can be adjusted separately to fit the wearer. The controllers are also very comfortable to use, as they strap onto the hand and do not require a firm grip at all times, and they have highly accurate motion tracking (though finger tracking is not yet possible in the XVR platform). Overall, the Valve Index provides a stable and pleasant experience for both new and experienced HMD users.
The (possible) downside to selecting the Valve Index is that it can be a bit cumbersome to set up, and once you have, there is no easy way of moving it. However, if you are using (or aim to use) HMDs in a fixed training location, you only need to set it up once. The location trackers allow for a playable area of up to 4 x 4 meters, which can be expanded to up to 10 x 10 meters by purchasing extra location trackers.
Valve Index is a high-end model and remains one of the pricier options on the HMD market at €1079 (including controllers and two "lighthouses", or location trackers). However, we still believe this HMD is worth the cost, as 2 years later it is still one of the most popular and best-rated HMDs on the market.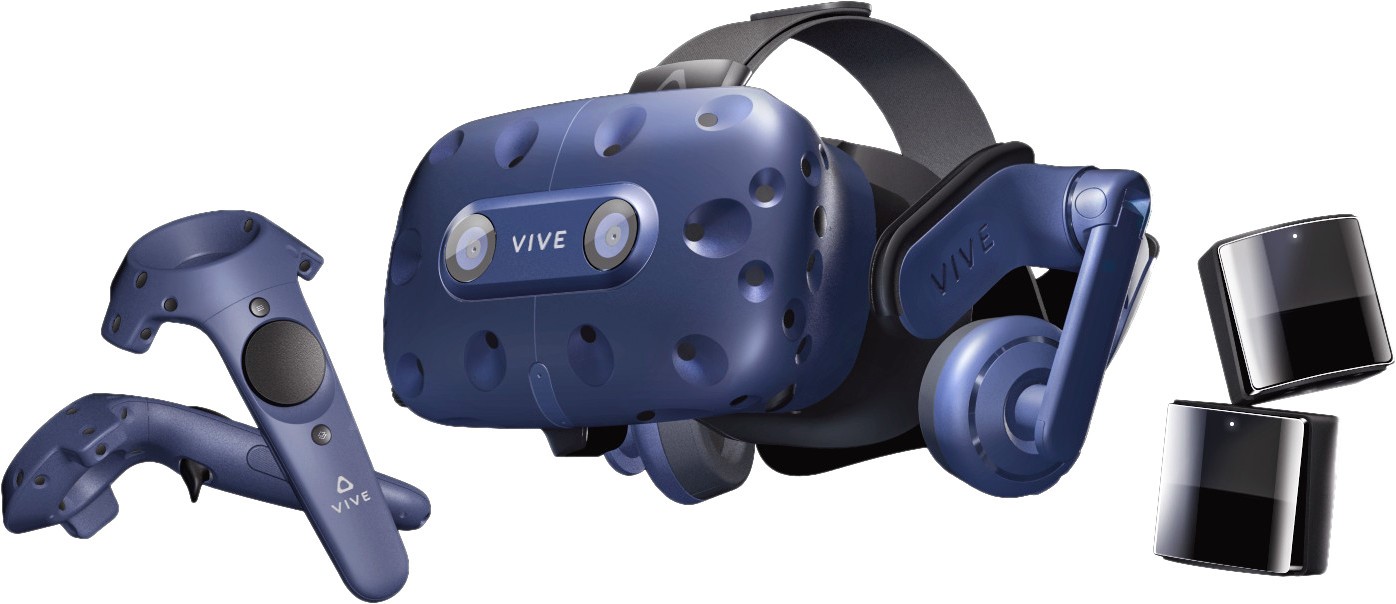 HTC Vive Pro
While the HTC Vive Pro has been succeeded by the Vive Pro 2 and Vive Cosmos Elite, we still believe this is a HMD of good quality, and it does not need immediate replacement should you already own one. The visual and audio quality is still very much up to par with the newer models on the market, and the harness that keeps it in place on the user's head is more flexible, more easily adjustable, and more comfortable than that of some others. The HMD includes built-in headphones that can be adjusted or removed, should you prefer to use a different headset. Altogether, this ensures a highly immersive experience for the user.
The HTC Vive Pro uses location trackers to set up a playable area of approx. 3.5 x 3.5 meters. This area can be expanded to up to 7 x 7 meters if you purchase additional location trackers. This does mean that the set-up is not easily moved, which may be a deterrent if you do not yet know exactly how and when you will be using the HMD in your training sessions. However, if you plan on using the same location for training with HMDs, you only need to set it up once.
We consider the HTC Vive Pro to be a high-end HMD, though considering it is no longer the newest model on the market, it remains quite pricy. It is still available from certain retailers starting at around €1199 (which includes controllers and two location trackers).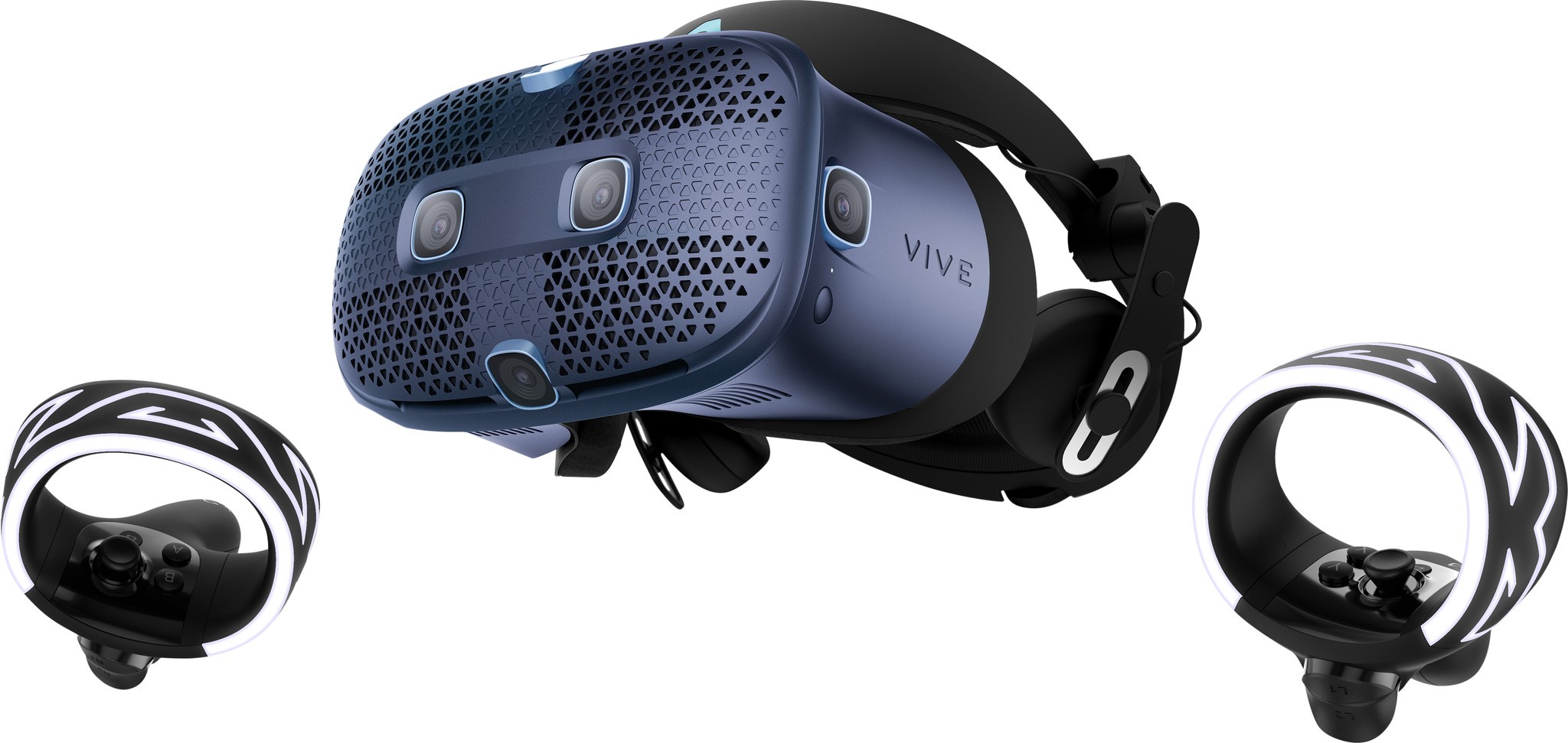 HTC Vive Cosmos

The HTC Vive Cosmos is an upgrade to the HTC Vive Pro in both graphics and comfort with a higher graphics resolution and more comfortable head strap. However, compared to other HMDs on the market, the so-called "sweet spot", where the virtual scene is sharp and focused when looking directly at it, is not as generous as that of e.g. the Valve Index. This means that the scene looks blurry if your eyes try to focus too far away from where the HMD is currently pointed (meaning you have to tilt your head to see sharply, rather than moving your eyes). The HTC Vive Cosmos has inside-out tracking, like the Oculus Quest 2, but works less smoothly than the Quest 2.
The controllers are a bit chunkier than those of e.g. the Oculus Rift and Oculus Quest 2, which for some gives a more pleasant feel and sturdier grip. They are wireless, which allows a certain amount of freedom in movement, but they drain after about 2-3 hours of gameplay and require 2 AA batteries each. This is not ideal if you are planning on longer training sequences, or training multiple people in succession (and you will need extra allowance in your budget just for batteries). The HMD also requires quite bright surroundings for the trackers to work properly, which is not the case with many other HMDs. In our own tests, we found that the tracking in the headset and controllers does not work well on dark flooring, they lose tracking more often than other HMDs we have tested. All in all, while the graphics and immersive experience of the HTC Vive Cosmos are great, the troubles with tracking are too disruptive for our liking, and in comparison with the original HTC Vive Pro is not worth the upgrade. Compared to other HMDs on the market, it is also pricy for an equal or lesser experience.
The HTC Vive Cosmos has since been replaced by the HTC Vive Cosmos Elite, which currently retails about around €999 (incl. controllers and location trackers). We have not yet tested this new version, so it is unsure whether the issues we experienced have been resolved.
What if I already have an HMD/want to use another HMD?
There are plenty of HMDs on the market, and in theory, most HMDs that can run Steam VR should be compatible with the XVR platform. However, we have not yet tested all of the most popular HMDs currently on offer, so we are unable to advise or recommend any outside of this guide.
In anticipation of expanding our test efforts, we have compiled a short list of other HMDs which run on Steam VR and appear compatible with the XVR platform. However, please note that we have NOT tested these internally yet and cannot guarantee how well they work for training purposes. Some are currently being used by other XVR users around the world – if you are interested in any of the below, feel free to reach out to our Service & Support team if you have questions.
HTC Vive Pro 2
HTC Vive Cosmos Elite
If you have already purchased other HMDs for training purposes, or if you have your eye on a different brand or model than the ones listed in this guide, you are also always welcome to contact our Service & Support team if you have questions about their compatibility.
(Update November 2021: We previously listed the HP Reverb G2 as being possibly compatible with the XVR platform. We have since tested the HMD internally and found this not to be the case, as some of the software drivers turned out to be incompatible in practice.)
Overview