VRZHZ and XVR present new Kijfhoek environment
The board of Safety Region Zuid-Holland Zuid (Veiligheidsregio Zuid-Holland Zuid) revealed the new 3D training environment of the Kijfhoek rail yard, created by XVR Simulation, on 30 August at the Spinel Safety Centre in Dordrecht. Present at the event were the mayors of nearby municipalities, Gorinchem and Zwijndrecht, as well as representatives from ProRail, XVR Simulation, and the local press.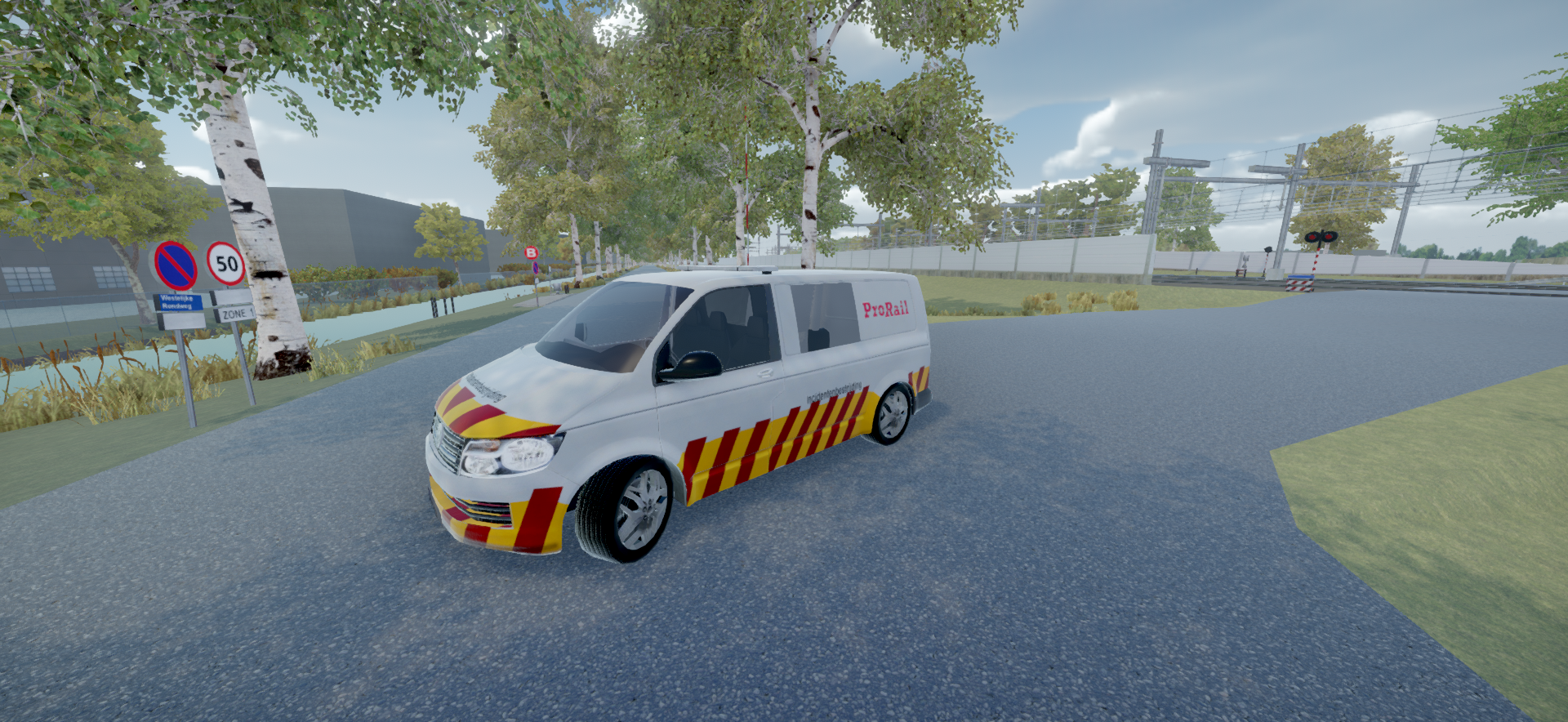 The project of building a realistic environment of the Kijfhoek rail yard has been underway for several years, so it was with great pleasure that XVR Simulation delivered the custom environment to Safety Region Zuid-Holland Zuid this summer. The safety region's staff will be using the environment to train the management of fire and CBRN incidents of varying severity in virtual surroundings, as it has been difficult to train these on location in the past.

"Setting up large-scale exercises at Kijfhoek is no small thing because it disrupts the daily operations," says Marco Troost, head of the Competence Department at Safety Region Zuid-Holland Zuid, "By using XVR Simulation, we can visualise a large, high-risk area, where we can train virtually in surroundings that have been recreated in detail."
Kijfhoek rail yard is one of the key rail yards in Europe. With its impressive 69 tracks, it connects Rotterdam Port to Belgium, Germany, and inland Europe, and is especially used as a connection point for freight trains carrying hazardous materials. Kijfhoek is in operation 24/7, every day of the year, and its sheer size and amount of daily traffic means a high incident frequency of varying sizes and severity. As the rail yard is in close proximity to several residential neighbourhoods, the high amount of yearly incidents – and in particular one severe incident that took place a decade ago – has both staff and locals concerned about increasing the rail yard's safety for everyone. This is why ProRail, who own and operate Kijfhoek, and Safety Region Zuid-Holland Zuid have been looking for solutions that will allow them to train and exercise more frequently. The new Kijfhoek 3D environment gives them the means to train in a wider range of incident scenarios than what has been possible so far, as well as maintain an ongoing practice of certain safety procedures and protocols.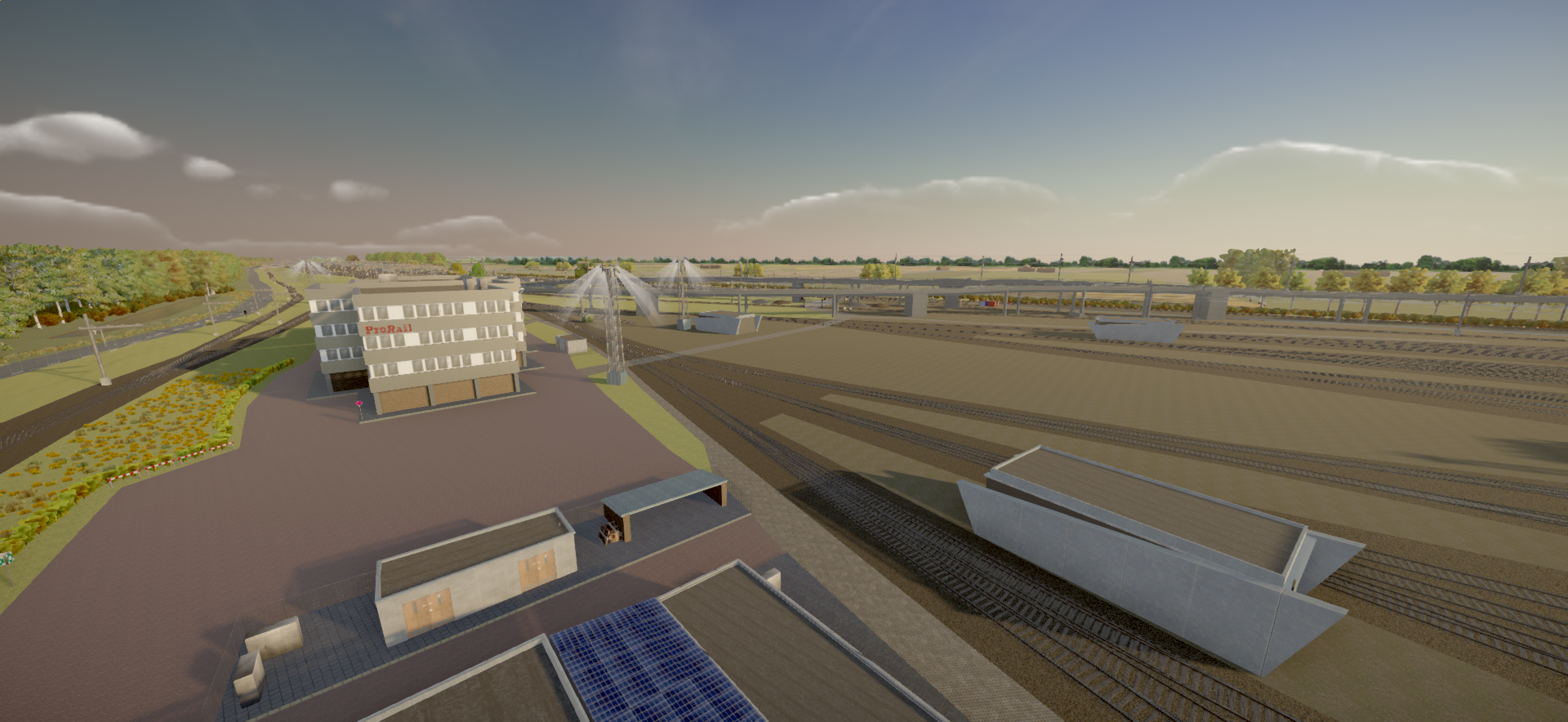 The new 3D environment is modelled accurately on the real-life rail yard by means of Google maps and many photographs to place rails, buildings, hydrants, fire escape routes, etc. correctly in their virtual surroundings. This high level of accuracy contributes to a highly immersive and realistic environment. Much time was dedicated to getting the details right, as well as giving the overall appearance of the XVR On Scene train tracks an upgrade while remaining fully functional as paths.

At the Spinel Safety Centre, the training and educational centre of Safety Region Zuid-Holland Zuid, they have installed a set-up with 3 user stations and one back-up station. This allows them to conduct mono- and multi-disciplinary exercises for all emergency agencies involved, as well as make use of head-mounted displays for an even more realistic experience for the training participants.
With these new tools, Safety Region Zuid-Holland Zuid and ProRail will be able to maintain and develop the skills of their incident commanders and crew to be better prepared for future incidents. Says Marco Troost: "Initially, we will be rolling this out for the firefighters working in the Safety Region, and ProRail will also be training their own people [using this environment]. Later, we will see what the rest of our people can do with it."
Below, you can watch a Dutch-spoken video recorded at the event, featuring Marco Troost of Safety Region Zuid-Holland Zuid, as well as our own Peter Coelewij and Eugène Ruitenbeek.
Overview