New XVR user – State Police College Latvia
We are excited to introduce one of our newest XVR users, the State Police College of Latvia. Aivis Ivashko, lecturer of the Department of Law and former forensic expert of the State police of Latvia, and Olga Aņikoviča, senior inspector responsible for international cooperation, tell us about their first steps with XVR. Though they are only at the very beginning of their journey, their ambitions are high.
"The goal is to incorporate XVR On Scene fully into our teaching and assessment curriculum. We aim to use it for training a wide range of skills and incidents – terrorist attacks, crowd management, inspection of crime scenes, decision-making, even for interrogation," explains Aivis Ivashko. "It's also a great tool for assessing or evaluating e.g. decision-making at leadership or management level."
"We have large exercises for learning goals such as crowd control once or twice a year, but they are resource-intensive and time-consuming. With XVR, we can model exercises that cannot be easily modelled in real life," adds Olga Aņikoviča.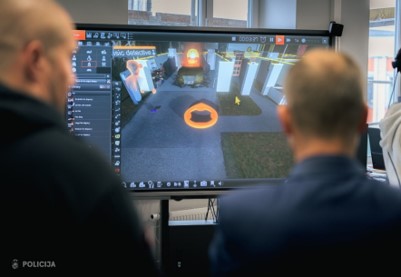 Inspired by how their colleagues at the Estonian Academy of Security Sciences use the XVR platform, the State Police College applied for funding to join the growing amount of police academies and colleges around the world who are exploring the advantages of simulation-based training. Having convinced the Latvian State police (on whom their budget depends) of the value of the XVR platform, they are now working together to prepare both organisations for the addition of virtual reality training to their exercise curriculums.
Aivis Ivashko and Olga Aņikoviča are part of a small team at the State Police College who are working hard on getting ready to launch simulation-based training at the college, and there is still plenty of work to do. Currently, they are analysing which training needs can be fulfilled with the help of XVR scenarios. They are furthermore developing a plan to introduce and onboard the teaching staff to the XVR platform. The teaching staff have all been asked to evaluate how and whether XVR can be implemented in their individual courses – in itself also a mammoth task. Finally, they are looking for additional staff to support the scenario-building and implementation.
The hope is that the addition of simulation-based training will make the college more attractive to new, young police cadets. "The world is getting more digital, and we have to keep up," says Aivis Ivashko. "I'm hoping that introducing virtual reality into our curriculum will help us move away from the traditional way of educating and assessing police officers, let us modernise and get better results, and thereby bring added value to our school."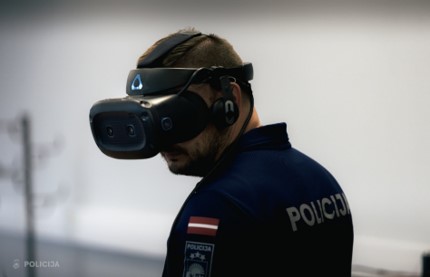 The facilities where the virtual reality training will take place are currently being finalised. Here they will be able to conduct both individual and team trainings and assessments. They have also purchased Oculus VR goggles to offer even more immersive exercises.
The main focus right now is getting XVR integrated in the curriculum for the police cadets, and in time also for the officers who come in for additional training. Approximately 460 students attend the State Police College, and an additional approximate 240 police officers attend 2-week trainings three times a year.
Aivis Ivashko and Olga Aņikoviča are cautiously hoping to be ready to introduce the first exercises by semester start in September. The biggest hurdles right now are firstly, the large workload to analyse the ways in which XVR can be applied, and secondly, onboarding the entire teaching staff, which comprises almost 60 educators. However, they are confident that they will overcome these challenges successfully. "We're ready to work and eager to see the first results of our efforts," ends Aivis Ivashko.
Overview