XVR Close-up: Beredskab Fyn
XVR On Scene was created primarily with the aim to train, educate and assess first-responder professionals, but over time we have seen its features applied in many different ways. Our users adapt the functionalities of our platforms to suit their own learning objectives and training needs, so we asked one of our newest Scandinavian users, fire and rescue services Beredskab Fyn in Denmark, to tell us about their experience of using XVR On Scene for training both emergency services personnel as well as civilians.
Beredskab Fyn is the fire and rescue services on the Danish island of Funen (or "Fyn" in the native tongue), and is co-owned by 9 of the island's 10 municipalities to which they deliver their firefighting and rescue services. Much like other fire brigades, the staff at Beredskab Fyn is also responsible for performing fire and safety inspections, advising on fire safety measures in (new) building constructions and outdoor recreational areas, and they provide courses on fire safety training and fire risk assessment for both emergency services and civilians.
It was for this last aspect in particular that Beredskab Fyn was looking for a solution; a new learning tool to help them better facilitate these trainings for non-first responders. "We had been looking for a supplementary tool for a while to help us educate our external partners, such as nursing staff, in a more realistic way. We did some research in the market of training software for emergency services, and based on that we decided that XVR was the right choice for us," explains Kenny Dramshøj Christensen, Head of the Fire Safety and Prevention Office at Beredskab Fyn. "One of the ways we are using XVR On Scene is to help all our participants learn fire safety skills, regardless of their background - from nursing home staff to kindergarten teachers."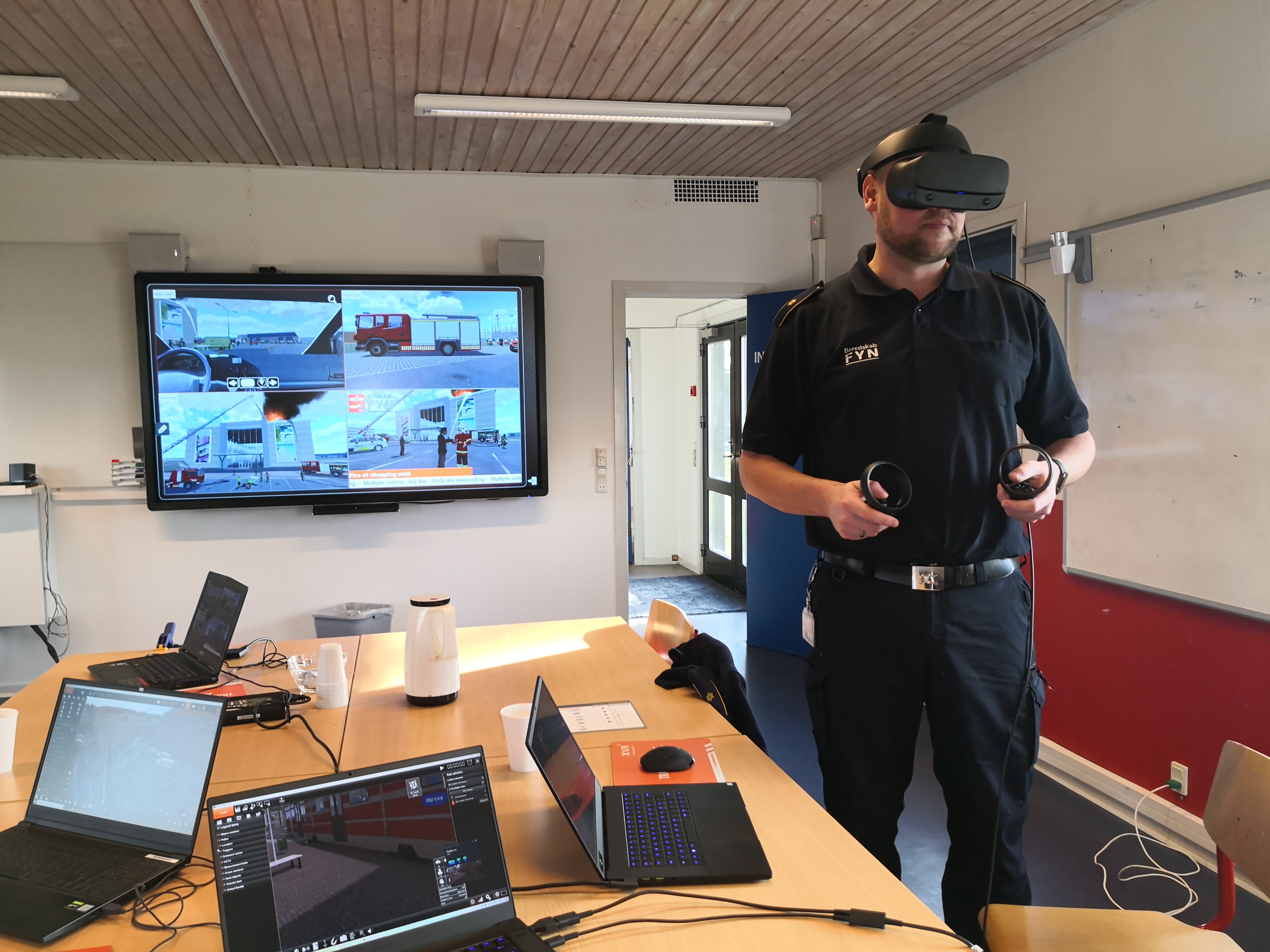 Aside from their work with non-first responders, Beredskab Fyn was also in need of a more efficient way to train their incident commanders and other staff from their Fire Safety and Prevention offices, which is housed in the same location as the rest of the fire brigade. They needed a tool that would help them keep up with the changing legislation surrounding fire and safety inspections, making sure that all fire and safety inspectors and incident commanders operate in the same way, follow the same procedures and provide the same service. By making a virtual fire plan that corresponds to a 3D building in an On Scene scenario, the participant can walk through the building using a head-mounted display while comparing the virtual surroundings to the fire plan – thereby checking if both plan and building adhere to the legislation. Kenny Dramshøj Christensen says, "We needed a tool to help us keep our own competencies up-to-date. Something that helps us continuously adapt when new legislation is passed, and to streamline the way we process our casework. For example, how do we ensure that the incident commander and the fire and safety inspector both perform a correct inspection of an event site? XVR On Scene will ensure that all our incident commanders are trained in the latest legislation for fire inspections."

Though Beredskab Fyn is not yet running full scenario simulations with their staff, as they are still in the process of familiarising themselves with the software, they are excited about the possibilities that XVR On Scene offers them. "For us, the biggest advantage to training virtually is that it gives us the opportunity to stage a scenario that is difficult to train using real-life facilities. We can adjust the scenario and inject customised challenges for each participant as the scenario progresses. The platform has great potential for training professional skills but also to be used as an educational tool for people outside the emergency services," he explains.
During the set-up phase, one of XVR's instructors went to Denmark to help them get acquainted with the software and create the set-up that suited their needs. Currently, Beredskab Fyn is equipped with two XVR laptops, and they are using joysticks, gamepads and head-mounted displays for an even more immersive experience. With this set-up, four incident commanders from the Fire Safety and Prevention offices are being trained to build and execute scenarios. Kenny Dramshøj Christensen was very pleased with the service provided by XVR during this phase. "We had two days with one of XVR's instructors on-site in Odense. He went through the platform with us, and we did some exercises in building scenarios. Those two days were really well spent, and it gave us a good basic understanding of what the platform can do."
In the future, Kenny Dramshøj Christensen hopes that XVR On Scene will become a widely-used platform at Beredskab Fyn and will "encourage more learning and knowledge sharing, and enable us to carry out both small and large, complex exercises without a large set-up."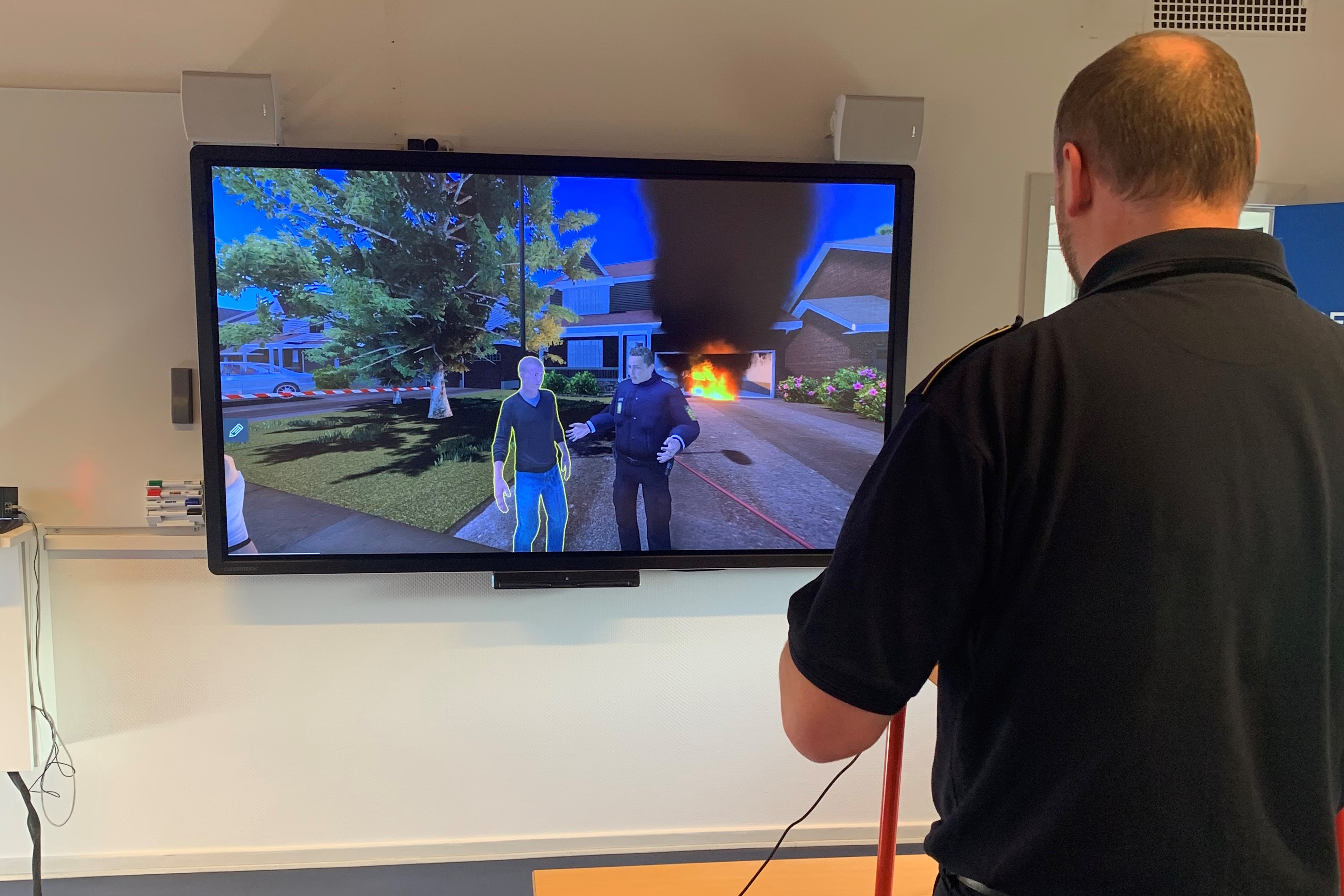 Overview