New XVR Community website
We are excited to announce the launch of the new XVR Community website, which will be released at the same time as XVR On Scene 2020. Our vision is to create a knowledge and content database for XVR's users that will encourage and facilitate learning, discussion and sharing of knowledge and expertise.
The XVR Community page is divided into a knowledge base and a content base.
In the knowledge base, users will find academic articles, handbooks and other practical guides from external organisations related to disaster management to inspire and inform their exercise curriculum. Technical documents such as software manuals and document templates for e.g. template or scenario descriptions will also be available here, as well as media articles and videos about XVR Simulation and our users. Next to this, we aim to provide a broad selection of "tips & tricks" articles and blog posts on the functionalities and applications of XVR On Scene. Finally, all our tutorial videos have been added to the knowledge base, and we will continue to update these with the newest functions and features in the near future. In the knowledge base, we have also added a forum where users can easily get in touch with other XVR users (locally or from around the globe) to share their knowledge and experience with using XVR's platform.
In the content base, users can browse through and download all available content generated by XVR Simulation and the XVR community to use in their own education and training efforts. We have divided the content into the categories: 3D models, images, sounds, templates, and complete scenarios. Additionally, all users can upload their own content to be used by other XVR users. Content is filterable by region, language, etc. where applicable. With each release of the newest version of XVR On Scene, we will also release new content, templates and scenarios. With the content base, we hope to provide our users with easy-to-use, relevant content that they can implement directly into their own scenarios, thereby saving time and effort so that our users can instead focus on creating the best training exercises for their staff.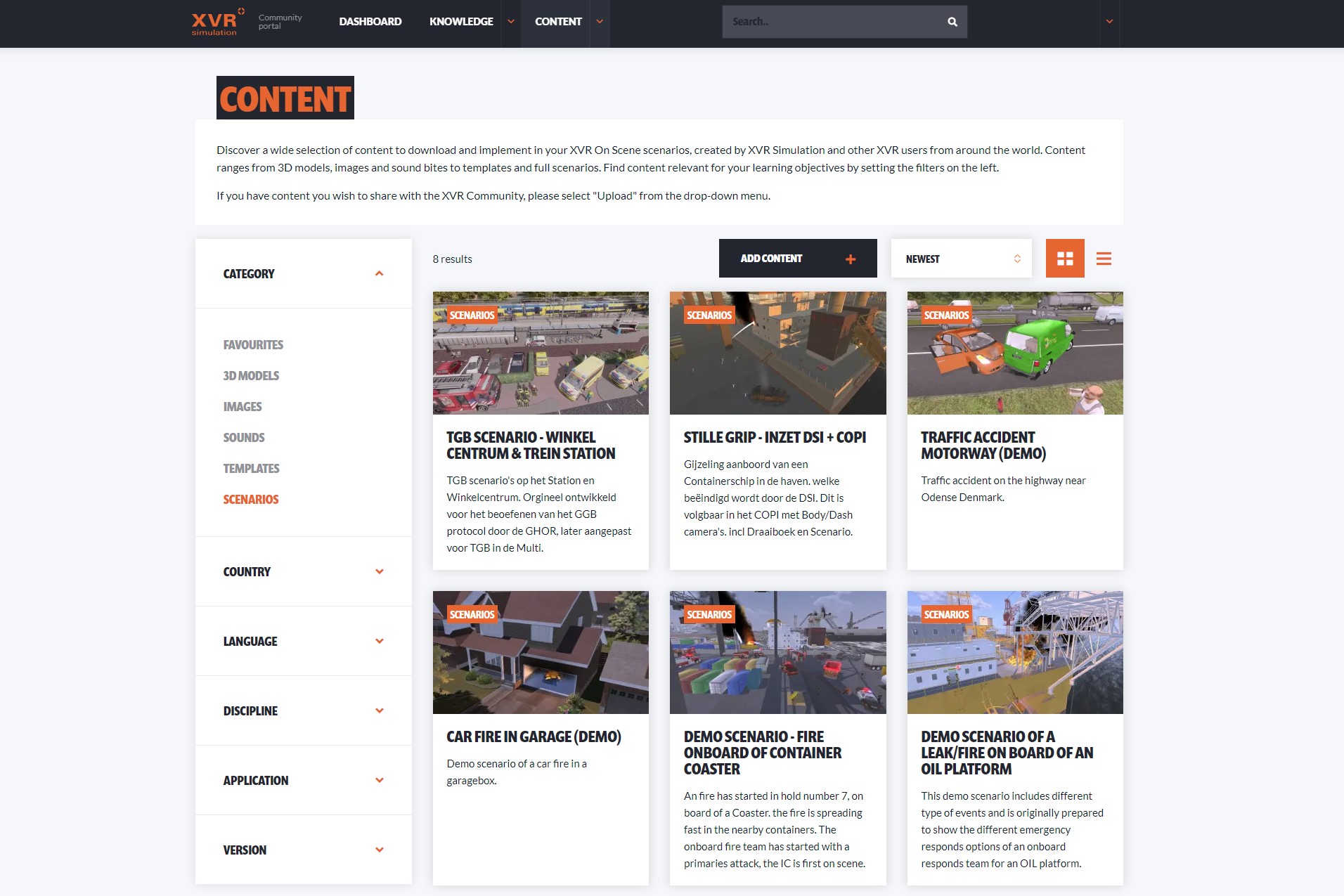 Overview