XVR headlining Singaporean newspapers
The official opening of the new simulation centre at the Home Team Academy (HTA) in Singapore is headlining several Singaporean newspapers and newschannels. Home Affairs and Law Minister K Shanmugam of Singapore opened the new simulation centre on Monday (May 21).
Mr Shanmugam indicates at Channel News Asia: "The simulation will get the officers in-sync, and give them a hands-on feel as well as a relevance of command skills. We will need to strengthen Home Team integration, based on common values, a shared mission and the academy has a key role to play in that".

During the past year XVR, together with the XVR Regional Support Centre operated by Coventry Enterprises Singapore, have worked hard to set up this state of the art simulation centre which brings together all XVR Simulation Platform modules into one single Simulation Suite. In the Simulation Suite, participants are confronted with 3D on scene images in the highly realistic virtual 3D environments.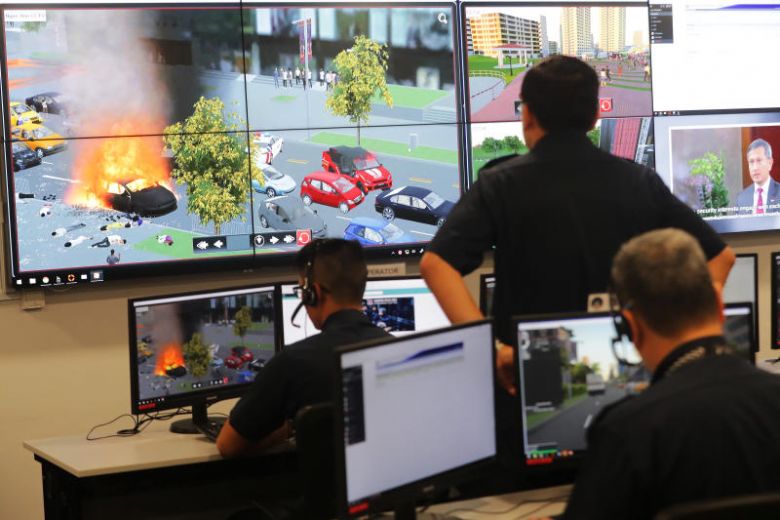 In addition to the CCTV or on-scene views, trainees can use the XVR 'Communications and Media' module to view the internal and external information flow on websites, intranet, e-mail, Whatsapp and other communication means used during a real incident. The constructive simulation module XVR Resource Management provides the trainees and the exercise staff with a real-time overview of the location and activity status of all emergency resources in Singapore.

Newspaper The Straits Times also spoke with several participants who already trained in the new simulation centre. Staff Sergeant Siti Badariah of Tanglin Police Division says: "It's as close to what we are going to experience on the ground. In real life, you won't get a situation where just one thing is happening, especially if the area is big. The system gives us that option to try inject simultaneously".

HTA has developed the system and scenario's not only with the help of XVR Simulation but also aided by extensive police front-line experienced men like Deputy Superintendent Kenny Yeo. "As soon as the commander has decided how to deal with the first inject, we can prepare to release the second. We train a commander to multi-task. how he can maintain an overview when two things are happening at the same time."

A selection of 15 different scenarios has been prepared, all of which can be altered and intensified with the introduction of new elements, evolving based on the commanders' decisions. Benefits of the simulator include manpower savings and increased training frequency, as it can mirror logistically intensive large-scale training exercises that come with deployment constraints.
Overview